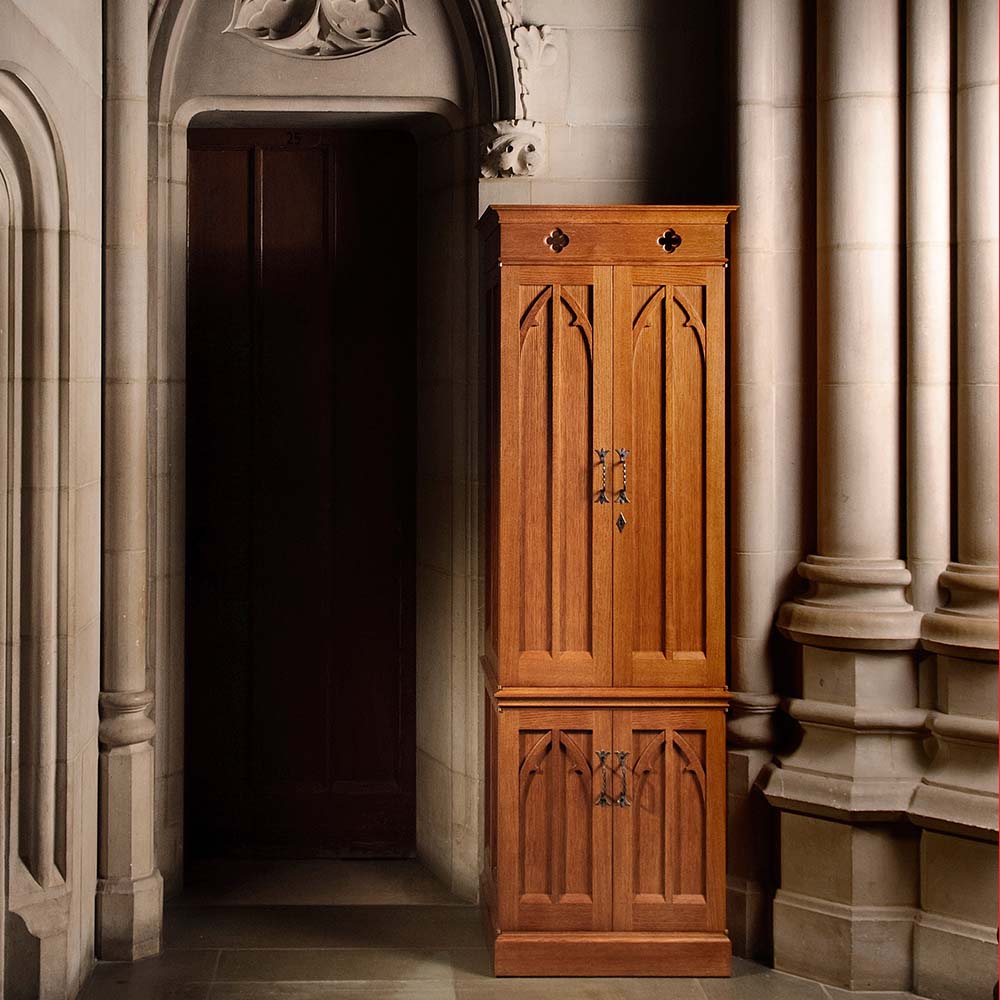 Duke University Chapel
St. Thomas Church
Phillips Chapel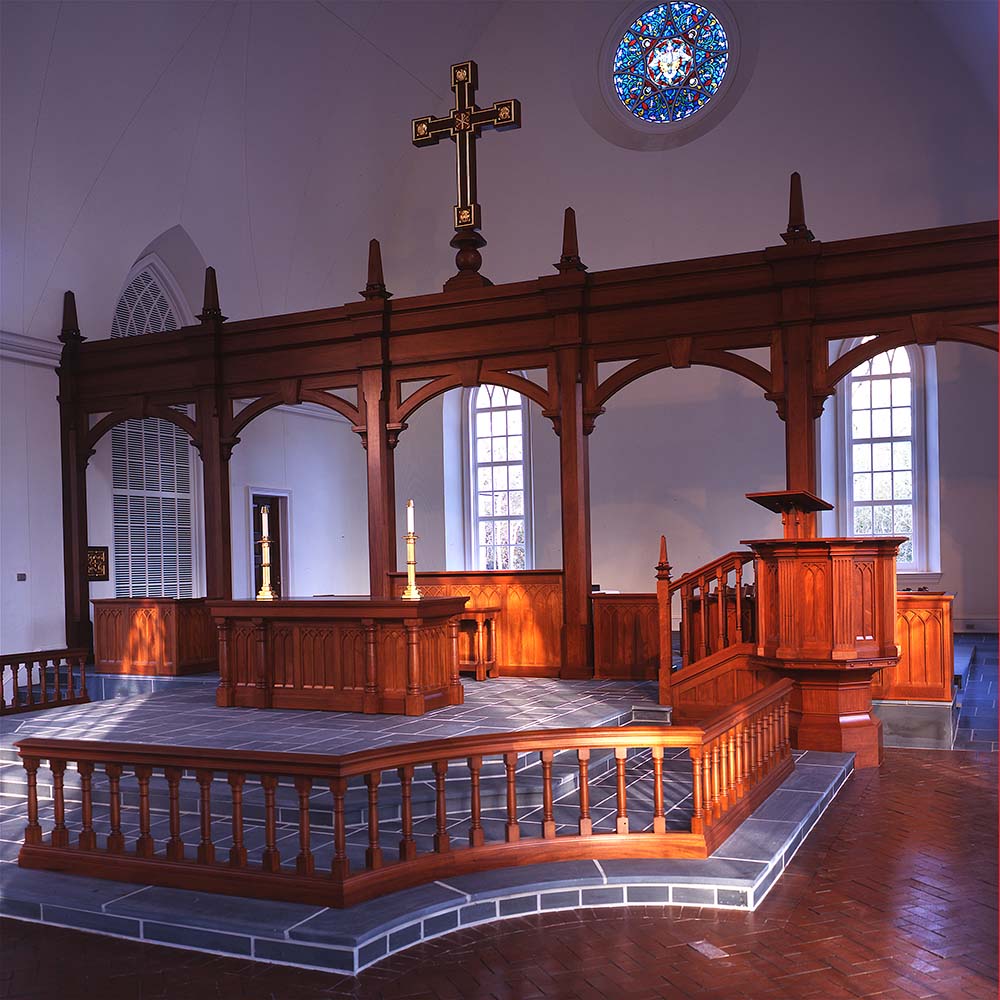 St. Peter's Church
Altars
Chancel Chairs
Tabernacles/Aumbries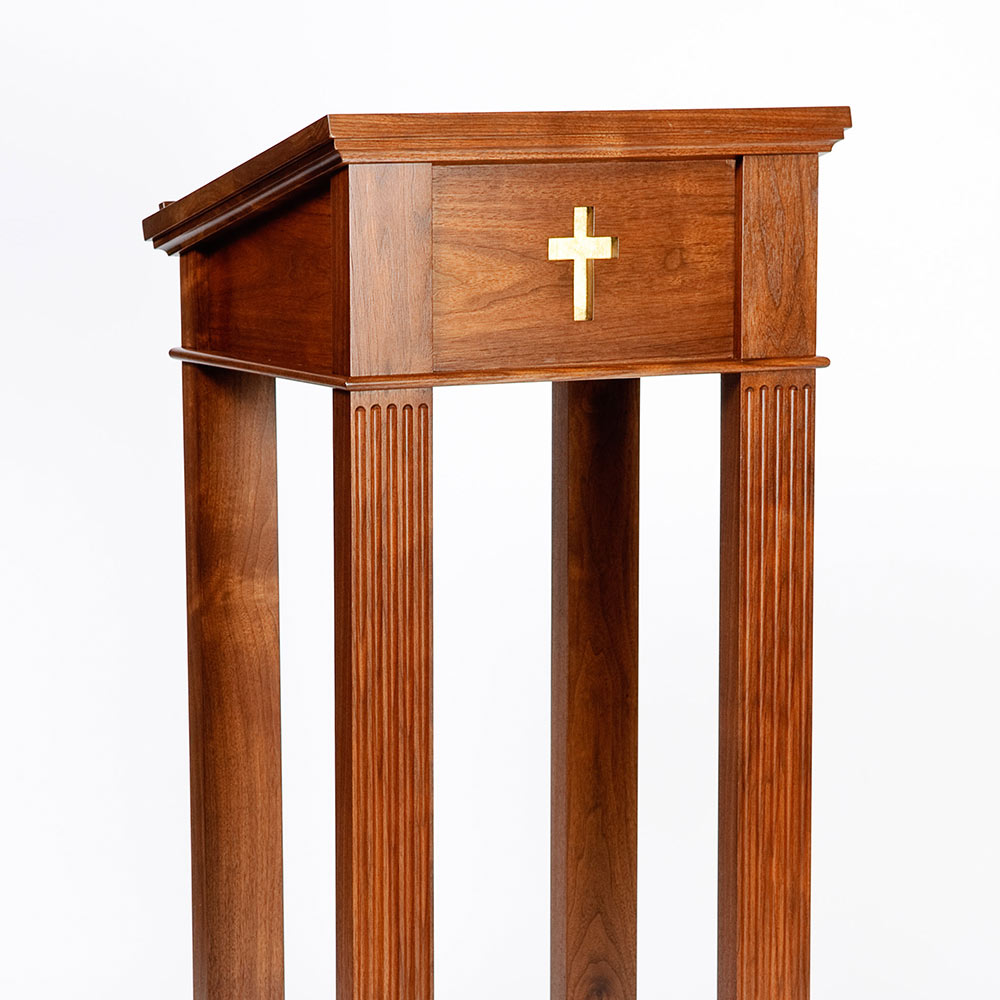 Anthony Claret
Ecclesiastical  Commissions Include:
Duke Chapel, Duke University [Durham, NC]—Memorial Chapel altar and reredos reworking; hostess desk and cabinet; flower stands, Book of Remembrance case, Advent-Candle stand, restoration of pews and chancel woodwork [X].
Saint Thomas Church Fifth Avenue [New York, NY]—columbarium cabinets [X], statue base for Our Lady of Fifth Avenue, prie-dieux, restoration of organ-gallery rail.
Phillips Chapel, The Canterbury School [Greensboro, NC]—cross, reredos, high altar, pulpit, lectern, chancel rail, communion rail, crossing altar, baptismal font, transept altars, choir stalls, sedalia, acolyte seating, altar candlesticks, hymn boards.
Saint Peter's Episcopal Church [Savannah, GA]—altar, rood screen, cross, pulpit, communion rail, chancel seating, lecterns, altar candlesticks, hymn boards, narthex bench.
The Basilica Shrine of St. Mary [Wilmington, NC]—altar, sanctuary chairs [X].
Goodson Chapel, Duke Divinity School, Duke University [Durham, NC]—altar, pulpit, lectern, side tables,  A/V console [X].
Wesley Theological Seminary [Washington, D.C]—altar, pulpit, lectern, baptismal font, choir and communion rails.
Saint Thomas More Catholic Church [Chapel Hill, NC]—altar, ambo, presider's chair, reconciliation screen, cantor's stand, processional and consecration candleholders, flower stands.
Saint Bede Catholic Church [Williamsburg, VA]—tabernacle, ambo [X].
White Rock Baptist Church [Durham, NC]—communion table, pulpit, choir rail; restoration of chancel woodwork.
All Souls Episcopal Church [Washington, DC]—columbarium; In Memoriam plaque.
Saint Stephen's Episcopal Church [Durham, NC]—chancel chairs, narthex benches, book-of-remembrance cabinet.
Saint Therese Catholic Church [Wilson, NC]—altar, chancel chair, tabernacle, ambo.
University United Methodist Church [Baton Rouge, LA]—altar, pulpit, lectern.
First Presbyterian Church [LaGrange, GA]—communion table, chancel chairs, choir rail.
Our Lady of Hope Catholic Church [Potomac Falls, VA]—ambo, chancel chairs, prie-dieux.
Spencerville Seventh-Day Adventist Church [Silver Spring, MD]—pulpit, communion table.
Union Theological Seminary, now Union Presbyterian Seminary [Richmond, VA]—library & rare-book room tables [X].
[X] Indicates American Institute of Architects–Interfaith Forum on Religion, Art & Architecture award-winning project.